Welcome to the Wistful Cafe
---
Welcome to the Wistful Cafe and Bakery! Check out our Facebook for daily specials. We do special order desserts for all occasions.
The Wistful Cafe and Bakery is a coffee shop, bakery, and cafe located in Edinburg, Ohio in the former Hargett's Farm Shop. We serve breakfast and lunch, plus we have extended hours on Friday for our weekly fish fry special.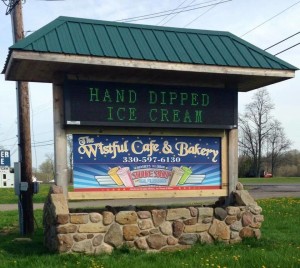 We are always accepting orders for cakes, cookies, donuts, and other desserts. Please call us at 330-597-6130 or email wistfulcafe@aol.com at least two days in advance. For holidays, we may require additional notice. Watch our Facebook page for holiday ordering deadlines.
Most of our menu items are available to-go – simply phone in your order at 330-597-6130 or fax it in at 330-597-6132 at least a half an hour before closing time. Did you know that we offer local business delivery for most items as well?
Our Facebook page features daily specials, updates on current events, coupons, and more. Here at the Wistful Cafe and Bakery, we have several weekends-only favorites. The menu features range from healthy lunch salads and burgers to paninis and our well-loved fiesta sticks. Ask your server about today's soup selection.
It wouldn't be a cafe without coffee, would it? Dine in today and you can order a bottomless cup of hot coffee. Take your pick of flavored lattes, chai, hot chocolate, frappes, smoothies, and many other energizing drinks. Our latte menu features seasonal selections.
We accept all major credit cards for purchases $10 and over (not including tip.)
Visit our gift shop for Wistful Cafe t-shirts and hoodies, Watkins spices, fresh-ground Caruso's coffee, humorous signs and paintings, and other fun items. You can purchase Wistful Cafe and Bakery gift cards in any amount. Free wi-fi access is available with purchase.